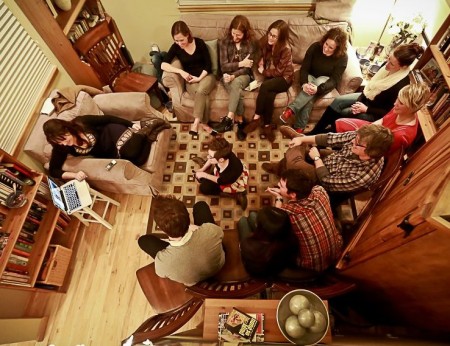 The small
MOOC that I was facilitating on the Canvas Network
ended this past weekend. I say small because we had 800+ participants and that's small for a MOOC (call it a BOOC - big - or SOOC - small?). I say facilitating because I don't consider it to be the same experience as when I "teach" even if I 'd like to think that when I teach I am also trying to facilitate more than push content at and into students. Actually, along with my designer colleague,
Mary Zedeck
from Seton Hall University, most of the work was in designing the content for the course. I even have a problem with saying it was a "course" because there were no assignments or grades or credit. I said up front that the C for this MOOC stood for Conversation.
The conversation ran for 4 weeks and was open to registration right up to the last day. You might ask what value that would have to join in a conversation when it was closing, but several people who signed in very late said they were glad that he content would still be available to them after the class ended. They plan to access the content as time permits. I see some value to that, although I would say at least half the value in "Academia and the MOOC" was in connecting with other participants (most of whom were employed in academic roles) in the forums. There were more links and comments to new readings in the discussions than were contained in the modules Mary and I designed.
But I am hoping that the conversation continues. I will be posting for the next few weeks some of the takeaways from doing this converstion. I also created some areas outside Canvas for that discussion to continue. (I did not use these areas during the 4 weeks because I felt it would dilute the conversation in the course itself.) This also widens the audience and I hpe some readers of this blog will join in now.
John Graves, a "student" in the class, had created a Google+ Community
https://plus.google.com/u/0/communities/112243817982502760507
during our mini-semester and that is place for conversation and also the possibility of some followup literal conversations using Hangouts.
I created an open Facebook group at
https://www.facebook.com/groups/464360010307595/
where we can easily continue to share links and ideas. I have done this for other courses I teach and they have a pretty good life beyond the semester. There is one on
designing social media
, one that was started with a group I worked with in a Stanford
creativity MOOC
, and one on issues in general
about educational technology
.
Although I don't find the conversations as dynamic in LinkIn as in other social network, I also created an open group there
http://www.linkedin.com/groups/Academia-MOOC-4993629
because there are people active there. We have always hoped that more "professional" conversations would emerge in LinkedIn, but that hasn't happened for me yet. I'm actually more likely to connect professionally with people via this blog, Facebook or Twitter.
We had very lively activity in twitter using our hashtag of
#acadmooc
during the month that the class ran and I hope that tag continues to gather posts about MOOCs and their impact on academia.
Thanks to another participant, Ann @annindk,
our tweetchat with MOOC pioneer Bryan Alexander is archived on Storify
for those who missed it. A second chat that we did within Canvas (closed) with another MOOC pioneer, Stephen Downes, is open to read in several place including here on Serendipity35.
If you are not a real Twitter user, you can also
follow that conversation via Tagboard
without a twitter account.
Finally, there will be people from the class posting to their own social sites (blogs etc.) about the course. Hopefully, I will get notifications about them or stumble upon them in some Google searching. We discussed in the course (it is hard to drop that familiar term) how little good formal feedback on MOOCs we could find by students. There are a good number of demographics studies on who takes MOOCs, but not much qualitative information on the experience. Most of that does seem to be informal or available on student sites. Ann Priestley, who was in my MOOC, let me know that she had
posted on her blog about the course
and I very interested in the positives and negatives about the experience. (I already commented on her post, so
that
conversation continues).
All these groups are open, so join in and invite colleagues who have an interest in exploring MOOCs.